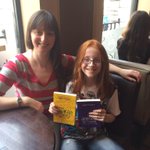 Last week Mia and I were lucky enough to meet with the fantastic Erika McGann and have a chat about her award winning children's book The Demon Notebook. Mia had lots of questions and was truly delighted to be able to chat with Erika about books, cakes and Ouija boards!
Debut Irish children's author Erika McGann has been announced as the winner of this year's Waverton Good Read Children's Award. McGann scooped the award for her deliciously spooky debut novel,The Demon Notebook, beating seventeen other shortlisted titles for the top spot.
M
ore young readers will soon fall under the spell of
The Demon Notebook
as it has been selected as a recommended read in the fantasy/sci-fi category for this year's 'Read for my School' campaign run by Booktrust.
The story continues in the sequel, The Broken Spell, which is out now and the third book in the series,The Watching Wood, will be published in Ireland and the U.K. in September. U.S. rights for both The Demon Notebook and The Broken Spell have been sold to Sourcebooks, with The Demon Notebookset for publication in the U.S. next month.
Here is a sneak peek at the wonderful USA cover of The Demon Notebook :
*******************************
Mia's review of The Demon Notebook
Grace and her four friends want to be witches, but it turns out to be harder than they thought! After a session with a Ouija Board, strange things start to happen and the girls lives are about to change.
This book is definitely in my top three reads of all time. The story is full of mystery and magic. The five friends are in secondary school and often get picked on by the school bully, Tracy Murphy, and want to get even. Unfortunately, things get a bit out of control and the girls need to get help from a local witch, Mrs Quinlan, to get things back to normal. Miss Lemon, their French teacher is also called in to help and she is shocked with all the drama.
I really like the way Erika writes and even though I am in primary school, this was a perfect read for me. I kept turning the pages and tried to read past my bedtime! I have already started the next book, The Broken Spell and cannot wait for the third one, The Watching Wood, due out this September. I will recommend this book to all my friends and would give it 5 out of 5 !!!
Mia's Interview with Erika McGann
1. How long did it take for you to write The Demon Notebook?
"It took me about eight or nine months, which is quiet a long time, but it was my first go at writing and I was kind of learning as I went. It was a little bit slow and a little bit clunky and it took me kind of a while to work things out."
2. Was it fun to create Mrs. Quinlan?
" Yes, it was. I love Mrs. Quinlan. I think she is one of my favourites. I love her. I always describe her as that neighbour in your street that if your ball went over into their back garden, you don't go and get it. You know that kind of neighbour that you are kind of scared of? I loved creating her. You can kind of say whatever you want as her aswell, she's so rude to the girls, you don't have to be careful, you don't have to be polite, so I love her!"
3. How did you come up with the Non-Una character?
"The girls are all kind of based on my friends, that I was in secondary school with, which is fun because they are trying to pick themselves out of the book now! I love the fact that when Una changes, she changes so much, she becomes really polite and she essentially became like me, when I was in school, all hand up, collected the books for the teacher and I loved that thing where they knew something was wrong as she was way too nice, way too polite."
4. Is there going to be a third book about Grace and her friends?
"Yes there is, and it's out in September. I'm working on the edits right now. It is called "The Watching Wood". I'm loving it at the moment and hoping it goes down really, really well. It's really exciting and I can't wait for that one."
5. Did you ever use a Ooija Board?
"Yes I did. I always wondered if it was that little button that was too far? When I was doing sessions I was kind of nervous, that it was the one thing that was going to get me in trouble, but to be honest, I think it is a different time now, it's not taken so seriously. I actually own one of the proper ones, that I got in America, the ones that you see on TV, as you just can't get them here.
I was never afraid of it. I just wanted to believe in it, I wanted to believe in ghosts and spirits. It was more fun than anything. Everybody has a story of a friend, of a friend, not someone close to them though. But I can understand some people being nervous of them."
6. Why did you choose to write children's books?
"I think because I'm not grown up enough to write adult books, I think there's too much of a kid inside me and there is real freedom in writing kids books. There's no restrictions or anything, you can kind of do what you want."
7. When you were a child, what did you want to be when you grew up?
"When I was really young, I wanted to be an author. I used to read and write stories a lot. But then when I got a little bit older I wanted to be a vet, but that is hard to get into in Ireland so I found a course in England called animal behaviour and welfare and I decided I wanted to be David Attenborough! I went to college and did that degree."
8. Have you always been interested in Witchcraft and the occult?
"Yes, I think that's what drove the book really. It came from me and my friends in school. we loved the idea of witchcraft, anything supernatural, ghosts and all that kind of thing."
9. What were your favourite children's books or authors as a child?
"I think probably my favourite children's author would be Roald Dahl. I think it always will be Roald Dahl ! I loved him when I was young. The BFG was my favourite, but when I went back to read them, it's not my favourite now at all. I really like Matilda. There weren't a lot of books like his, he was kind of nasty and grotesque and still now there's nothing quite like him. I loved the Narnia books aswell and I loved The Worst Witch."
10. Did you use the library or buy books when you were young?
"The library. It was all about the library. When I was pre-teen, me and my friend used to make a trip to the library every two weeks together. The library was a big thing when I was young. It was our access to books."
11. Tell us three things that most people don't know about you.
" I'm actually afraid of balloons. I worked briefly in a party shop and we used to do balloon arrangements and when you are working on them, some of them pop and it just made me so tense!
I did a volunteer placement in the Bahamas and I got to work with sharks, even swimming with them!
I read a lot of YA books. Grown up, mature books, I can't handle at all. When I'm in a book shop, I ignore the adult section entirely. "
12. What is your favourite dessert?
"Anything with chocolate! I am a chocolate fiend! I think, chocolate fudge cake....."
13. What was your favourite childhood holiday?
"We went to France a lot, which I loved, as we have relatives over there. My Mom speaks very good french and she double, double checked all the french I wrote in the book. But if I was to choose a great, really mad holiday, we used to go down to Trabolgan in Co. Cork and remember that being the awesome, awesome holiday !! We were set free and had so much fun ...."
14. What famous person, alive or dead, would you give your last Rolo to?
"I would give it to Jane Austen because, despite Mansfield Park, I absolutely adore her. I re-read her books constantly and for the time, she was so advanced, talking about women, and she was so witty. I think she would be really, really fun."
Thanks so much to Erika for agreeing to meet us and allowing Mia to ask her all those questions! We cannot wait for the new book in September.........
The Demon Notebook and the Broken Spell are published by The O'Brien Press and are available in all good bookshops or in e-book format.
http://www.amazon.co.uk/Demon-Notebook-school-just-scary-ebook/dp/B00A8SI7AE/ref=sr_1_1?s=books&ie=UTF8&qid=1400516433&sr=1-1&keywords=the+demon+notebook
http://www.amazon.co.uk/Broken-Spell-Erika-McGann/dp/1847172962/ref=sr_1_1_bnp_1_pap?s=books&ie=UTF8&qid=1400516492&sr=1-1&keywords=the+broken+spell